Mary Oliver New York School Masterclass
New Music Co-op Presents: Mary Oliver Masterclass Friday, Jan 23 7:00pm Church of the Friendly Ghost
On January 23rd 2004 Mary Oliver conducted a masterclass for NMC members partcipating in the New York School concert planned for April 2004. The class was open to the public.
Four piece were performed by four different ensembles who had worked through the pieces, but not explored them in-depth. Oliver, being very familiar with the work of the two composers represented, was perfect to help the musicians deal with some of the details of these demanding pieces.
On the program were:
Earle Brown's December 1952 by the Gates Ensemble
Morton Feldman's Viola in my Life by James Alexander, Callie Shelton, Steve Bernal, Travis Weller, Keith Manlove and Sarah Norris.
Morton Feldman's De Kooning by Steve Bernal, Mark Jansen, Travis Weller, Keith Manlove and Sara Norris
Morton Feldman's Structures by the Imbroglio String Quartet
Mary was very helpful in many aspects. She discussed, among other things, cuing systems in Structures, the illusive phrasing in De Kooning, material selection in Dec 1952 and dynamics in Viola in my Life.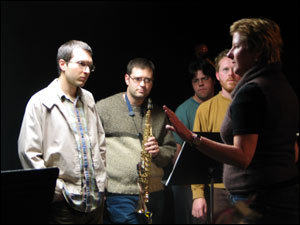 Mary coaching the gates ensemble on Brown's "Dec 1952"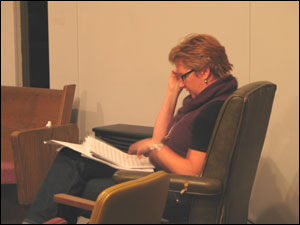 Mary following along with Feldman's "Viola in my Life"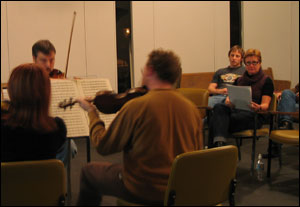 Mary looks on as Imbroglio plays Feldman's "Structures"