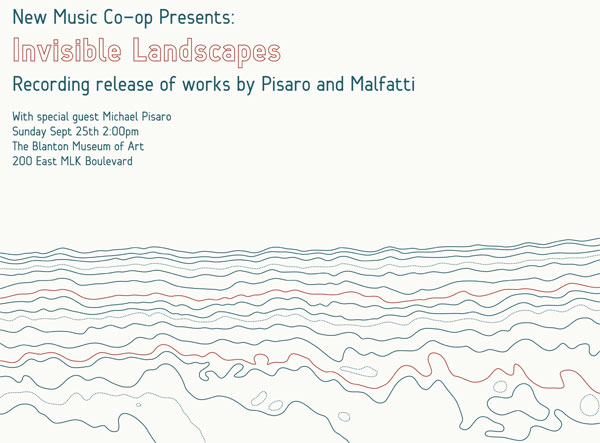 Austin New Music Co-op Presents: Invisible Landscapes Recording Release
NMC reprises commission pieces from Pisaro/Malfatti, releases recording
NMC Presents: Invisible Landscapes Recording Release Featuring special guest Michael Pisaro (CA) Sunday Sept 25th 2:00pm The Blanton Museum of Art 200 East MLK Boulevard Tickets (admission to the museum) available at the door http://blantonmuseum.org/
In February of 2010 NMC commissioned two large scale works of chamber music from maverick composers Radu Malfatti (Austria) and Michael Pisaro (California). On September 25th, NMC will reprise these two septets in celebration of the release of our studio recording of the two works.
The new CD can be pre-ordered at the following link:
Both Pisaro and Malfatti are active members of Wandelweiser, a geographically far flung collective of composer/performers who have been presenting concerts and publishing recordings and scores of their music for over 20 years. Recently, Alex Ross wrote a piece about Wandelweiser in the The New Yorker. Wandelweiser stands on the shoulders of 20th century pioneers such as John Cage, Morton Feldman, and La Monte Young, continuing to explore sound, silence, and form in new music.
About the Program
Both 2010 commission pieces will be performed for this concert: Pisaro's "Ascending Series 7" and Malfatti's "Red River 7." Both pieces are scored for a septet of violin (Travis Weller), viola (Elizabeth Warren), cello (Henna Chou), bass (Brent Fariss), and three percussionists (Andrew Stoltz, Marcus Rubio, Laura Brackney). Michael Pisaro will also perform his own solo composition "melody, silence" for amplified guitar.
About Michael Pisaro
Michael Pisaro was born in Buffalo in 1961. He is a composer and guitarist, a member of the Wandelweiser Composers Ensemble and founder and director of the Experimental Music Workshop. His work is frequently performed in the U.S. and in Europe, in music festivals and in many smaller venues. It has been selected twice by the ISCM jury for performance at World Music Days festivals and has also been part of festivals in Hong Kong, Aspen, London, Glasgow, Huddersfield, and Chicago. He has had extended composer residencies in Germany, Switzerland, Israel, Greece and in the U.S. He is Co-Chair of Music Composition at the California Institute of the Arts near Los Angeles. He has performed many of his own works and those of close associates Antoine Beuger, Kunsu Shim, Jurg Frey and Manfred Werder, and works from the experimental tradition, especially John Cage, Christian Wolff, James Tenney and George Brecht.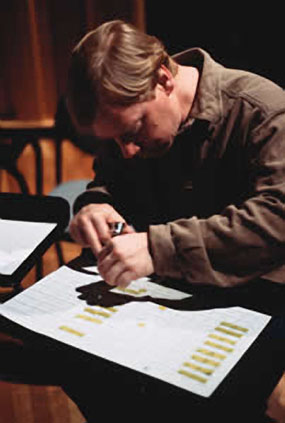 For more information:
http://www.timescraper.de/pisaro/
http://www.calarts.edu/faculty_bios/
This project is supported in part by the Cultural Arts Division of the City of Austin Economic Development Department.