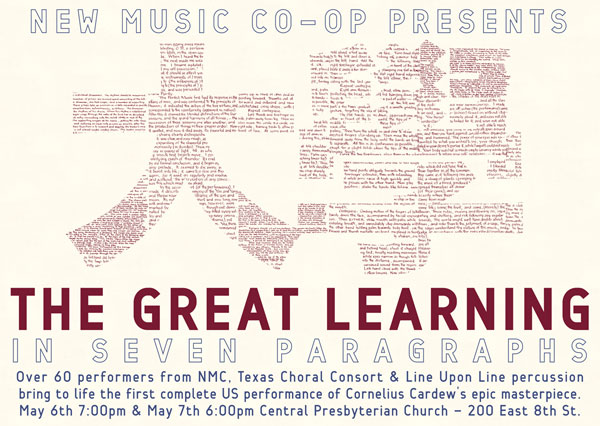 Austin New Music Co-op Presents Cornelius Cardew's "The Great Learning"
NMC, TCC, and over 60 musicians roll out US premiere of epic avant-garde masterpiece.
NMC Presents: The Great Learning - In Seven Paragraphs
Friday May 6th @ 7:00pm (Paragraphs 1, 2, 3 & 4)
Saturday May 7th @ 6:00pm (Paragraphs 5, 6 & 7)
Central Presbyterian Church
200 East 8th Street
Advance tickets available now at End of an Ear (http://endofanear.com)
$17 one night / $25 both nights
Student and advance tickets discounted to $15 one night / $20 both nights

In Spring of '02, Austin New Music Co-op performed our first large ensemble concert, which was centered around "Treatise," the 193-page graphic score by British composer Cornelius Cardew. On May 6th and 7th of this year, nine years later, NMC is interpreting Cardew's other mammoth masterpiece: "The Great Learning." This epic, immersive piece will be performed over the course of two nights by a cast of more than 60 performers, including chorus, pipe organ, strings, winds, percussion, and more. Witnessing a performance of this piece in its entirety is incredibly rare. Although various excerpts of the seven-part cycle have been performed all over the world since its UK premiere in 1971, we are the first ensemble ever to present a complete performance of "The Great Learning" in the United States. In a planning, production and rehearsal period spanning more than 24 months, NMC has teamed up with conductor Brent Baldwin and his Texas Choral Consort, Line Upon Line Percussion, Central Presbyterian Church, and many other local artists to present this very special event. The second night of our performance falls on Cardew's 75th birthday and will be a true celebration of his life and work. And yes, there will be cake.
Cornelius Cardew's 1970 masterpiece "The Great Learning" is a work in seven parts or "Paragraphs" based on translations of Confucius by Ezra Pound and is composed for trained and untrained musicians. The piece instigated the formation of the experimental musical ensemble The Scratch Orchestra, who also gave "The Great Learning" its premiere. Now, four decades after its completion, Cardew's obsessively constructed 5+ hour composition has become an often recalled and imitated masterpiece of counter-culture avant-garde. The influential piece, one of the earliest pieces to be called "minimalist" by composer/critic Michael Nyman, conjures at once Ligeti's clouds of sound, Webern's pointillism, Reich's phasing cycles, and Cage's conceptual provocations. This feast of varied sound-theater events includes a pipe organ with whistling chorus, cascading waves of percussive sound, loud and soft laughter music, an orchestra of droning contra-basses and large brass instruments, and swirling clouds of a cappella voices. Sadly, a complete presentation of "The Great Learning" is exceedingly rare, due largely to its demands of 50+ performers, several unconventional instruments, a pipe organ, and necessarily open-minded interpreters. We are thrilled to bring Cardew's revolutionary sonic utopia to Austin's new music audience.
About Cornelius Cardew
Cornelius Cardew was born May 7, 1936, in Winchcombe, Gloucestershire, England, and killed in a hit and run automobile accident in London, December 13, 1981. He taught at the Royal Academy of Music in London as well as other schools. With Michael Parsons and Howard Skempton he formed an improvisational ensemble, The Scratch Orchestra, which premiered the entire cycle of The Great Learning. He was active in the seminal chamber ensemble AMM with Eddie Prevost, Keith Rowe, John Tilbury and Christopher Hobbs. Cardew's concern for human rights and economic justice led him into Marxist politics and renunciation of his experimental music during the 1970s. Instead, he pursued popular styles of music-making. At the very end of his life (and after Mao Tse-Tung's death), he appeared to be open to reclaiming aspects of his earlier broad approach to sonic art.
About Austin New Music Co-op
The New Music Co-op is a community of composers and performers dedicated to promoting awareness and understanding of new music. Since 2001, the NMC has presented over 30 concerts featuring over 150 new works, many of them premieres. Notable New Music Co-op concerts have included a commission of a program length work by Berlin-based composer Arnold Dreyblatt, a realization of John Cage's Songbooks, music for the extinct instruments of Luigi Russolo, Pauline Oliveros' Four Meditations for Orchestra (with the composer in attendance), a three-day series of the works of the New York School, Terry Riley's In C, and Ellen Fullman's Long String Instrument performance at Seaholm Power Plant. New Music Co-op members come from highly diverse backgrounds, from classical performance to electronic music to formal composition to rock bands. The group runs by consensus and gains its strength from its members' varied experiences and interests. The New Music Co-op is a 501(c)(3) non-profit organization, and all donations to the group are tax-deductible.