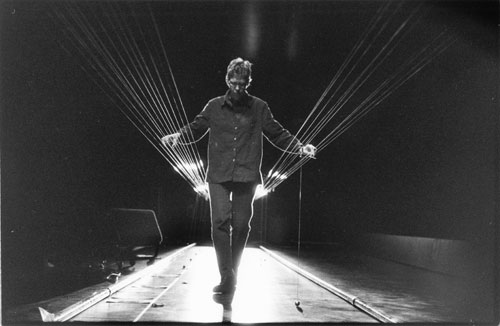 Ellen Fullman and the Long String Instrument, with Austin New Music Co-op, at UT MIA/AIM Symposium
Free performance to feature gigantic "Long String Instrument" installed inside historic UT building.
Thursday October 20th 8:30pm
Battle Hall on UT Campus
Location: http://www.utexas.edu/maps/main/buildings/btl.html
FREE ADMISSION

In March of 2010, NMC presented Ellen Fullman and her 100ft Long String Instrument filling the Seaholm Power Plant to capacity for two nights and landing a Critics Table award for Best Chamber Performance of the year. The collaboration has also made its way on to Fullman's recent CD release "Through Glass Panes."
On October 20th, as part of the UT Music in Architecture / Architecture in Music Symposium, Fullman will premiere her new work "Tracings" in the magnificent Battle Hall on UT campus. The new work, composed specifically for the historic hall, repurposes ratios found in the design of the building to produce justly tuned musical intervals. Designed by architect Cass Gilbert and completed in 1911, the structure not only projects itself onto the music but will provide a wonderful acoustic environment for Fullman's strange and beautiful instrument.
Joining Fullman for the performance are NMC musicians Brent Fariss (contrabass), Nick Hennies (percussion), Andrew Stoltz (overtone guitar designed by Arnold Dreyblatt) and Travis Weller (playing his custom string instrument "The Owl").
In addition to the performance on the 20th, sponsored in part by the Meet the Composer Foundation, audiences will have their choice of additional opportunities to get to know the composer and her unique instrument:
* Public hands-on workshop (Battle Hall)
Sunday Oct. 16th 4pm - 5pm
* Open rehearsal (Battle Hall)
Tuesday Oct. 18th 6:00pm
* Pre-concert artist talk (Battle Hall)
Thursday Oct. 20th 4:15pm - 5:15pm
* Performance (Battle Hall)
Thursday Oct. 20th 8:30pm - 9:30pm
* Post-concert Q&A (Battle Hall)
Thursday Oct. 20th, post-performance
* Roundtable discussion (Goldsmith Hall - Mebane Gallery)
Friday Oct. 21st, 4:45pm
* Workshop and lecture (Goldsmith Hall)
Saturday Oct. 22 9:30am
NMC is delighted to be a part of the MIA/AIM Symposium. More information about these and other MIA/AIM events can be found at:
http://soa.utexas.edu/caad/mia-aim/
About Ellen Fullman
In 1981 Ellen Fullman began developing the Long String Instrument, an installation of dozens of wires fifty feet or more in length, tuned in Just Intonation and 'bowed' with rosin coated fingers. Fullman has developed a unique notation system to choreograph the performer's movements, exploring sonic events that occur at specific nodal point locations along the string-length of the instrument. She has recorded extensively with this unusual instrument and has collaborated with such luminary figures as composer Pauline Oliveros, choreographer Deborah Hay, the Kronos Quartet, and Keiji Haino. She has been the recipient of numerous awards, commissions and residencies including: DAAD Artists-in-Berlin Program residency, Japan/U.S. Friendship Commission/NEA Fellowship for Japan, Meet the Composer, Reader's Digest Consortium Commission, Artist Trust/Washington State Arts Commission Fellowship, and artist-in-residence at Headlands Center for the Arts. Her music was represented in The American Century; Art and Culture, 1950-2000 at The Whitney Museum, and she has performed in venues and festivals in Europe, Japan, and the Americas including: Instal, Lincoln Center Out-of-Doors, Other Minds, the Walker Art Center and Donaueschinger Musiktage. Her release "Ort", with Berlin-based collaborator Joerg Hiller, was selected in the top 50 recordings of 2004 by The Wire (London) and "Fluctuations" with trombonist Monique Buzzarte on Deep Listening was included in the Wire top 50 of 2008.
About MIA/AIM
The Center for American Architecture and Design, in conjunction with the School of Architecture, the College of Fine Arts, and the Butler School of Music, presents Music in Architecture-Architecture in Music. This cross-disciplinary Symposium brings musicians, composers, architects, and scholars from around the world to explore the deep connections between the two arts through performance, installation, and academic research. The program includes collaborative performances between musicians/composers and architects who have created site-specific original music and architectural installations. In addition, there will be performances inspired by and illuminating architecture from commissioned architects, artists and composers including Ellen Fullman, Paul Dresher, Iannis Xenakis, Michael Rotondi, Line Upon Line percussion, and more.
The symposium will take place October 19-22, 2011 on UT Campus. Specific event times and locations my be found on the full event schedule:
http://soa.utexas.edu/caad/mia-aim/