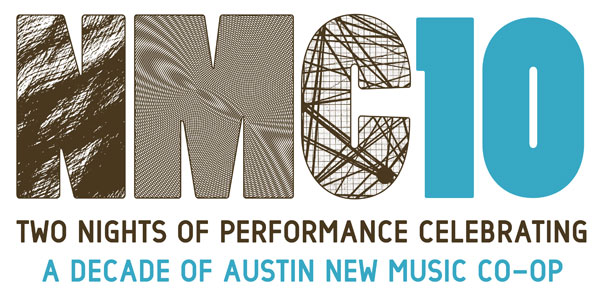 Austin New Music Co-op Presents: NMC10
Two nights of performance celebrating a decade of Austin New Music Co-op
Friday March 23rd 8pm &
Saturday March 24th 7pm
At the MACC (600 River St)
Advance tickets available now at End of an Ear (http://endofanear.com)
$17 one night / $25 both nights
Student and advance tickets discounted to $15 one night / $20 both nights

Austin New Music Co-op will reprise selected commissions and classic repertoire from Morton Feldman, Arnold Dreyblatt, Alvin Lucier, Earle Brown, Cornelius Cardew, and several co-op composers. Catered reception to follow Saturday's performance.
A decade ago this month, New Music Co-op was preparing for its first large scale concert. The loose collection of musicians brought together by a love of invention and experimentation didn't know they were on their way to becoming a thriving home for new music in central Texas. Since then, NMC has given the first ever North American performance of one of the most massive and rarely performed works of the past 100 years, recreated extinct noise instruments from the turn of the century, collaborated twice with 100-foot microtonal 'long string instrument' inventor Ellen Fullman, built primitive electronic instruments to create a sonic profile of a room in total darkness, presented an entire concert with only rocks and stones, and commissioned a long form work from Arnold Dreyblatt, one of the most important minimalist composers of our time. And that's just scratching the surface.
About The Program
We're marking this milestone with a fantastic program carefully chosen from our past work. In addition to the music listed below, we'll be celebrating with a catered reception following the Saturday evening concert.
Members of NMC and Texas Choral Consort will perform Paragraph 7 of Cornelius Cardew's "The Great Learning" for a capella chorus
Two of Morton Feldman's chamber works "de Kooning" and "The Viola in my Life"
Alvin Lucier's "Still and Moving Lines of Silence in Families of Hyperbolas" for vibraphone and sine waves, as well as an installation in the lobby for "unattended percussion" and sine waves.
Excerpts of Earle Brown's "Folio" performed by chamber ensemble
Arnold Dreyblatt's 2007 "Kinship Collapse" commissioned by NMC
Works by NMC composers:
Brent Fariss' "I apologize Julius, for judging you" for amplified chamber ensemble.
Nick Hennies' "Second skin with lungs" for snare drums
Keith Manlove's "Becoming Machine II" for voice and electronics
Bill Meadows' "Loose Atoms" for wacom graphics tablet.
Travis Weller's "Toward and away from the point of balance" for violin, viola, cello and custom instrument "the owl"
We'll also have an exhibit with video, slides, and posters from past concerts as well as co-op built instruments such as the "intonarumori."