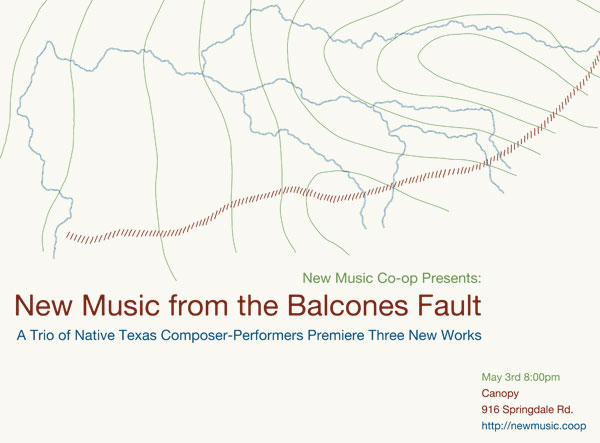 Austin New Music Co-op presents:
New Music from the Balcones Fault

NMC Presents: New Music from the Balcones Fault
A Trio of Native Texas Composer-Performers Premiere Three New Works
Saturday May 3rd @ 8:00pm
Canopy
916 Springdale Rd.
$12 student/advance and $15 at the door

Advance tickets available now at http://newmusiccoop.eventbrite.com

Inactive for nearly 15 million years, the Balcones Fault may not cross your mind very often. But in Central Texas, the geological feature has a way of showing up everywhere in subtle ways: rivers, hills, roadsigns etc. And while none of the music on this program was inspired by the fault line in particular, the three musicians working on this project together have been walking around on it for the better part of their lives and conceived of this project to celebrate their home base.

Fariss, Underriner, and Weller are active as both composers and performers, so it only made sense to explore the time honored tradition of writing for each others' instruments. The uninitiated might expect to find saw dust on the floor for a Texas-themed concert featuring guitar, violin, and upright bass. Instead of sawdust, expect May 3rd to bring a great chance to hear the sound of Texas' experimental margins: quiet intensity evoking our state's unique landscape.

The Three Works on the program will include:

"A Field of Bluebonnets" by Brent Fariss
"Landscape: Texas Plains" by Charles Underriner
"Dry Lines" by Travis Weller

About the Artists

Brent Fariss is a composer / performer living in Austin, Texas. He has collaborated in several modern music ensembles including the Austin New Music Co-op, Knob Jobs, and the Gates Ensemble. In the past few years, he has collaborated with Phill Niblock, Ellen Fullman, Michael Pisaro, Radu Malfatti, Pauline Oliveros, Mary Oliver, and Arnold Dreyblatt. Fariss holds a Master's degree in Composition from Texas State University, where he also studied the contrabass. He is the recipient of two New Music USA grants for the compositions, "Dim Gleam" (2008) and "The Water Bowl" (2012). His goal in music is exploring the nature of sound (timbre), elevating it to the same level as melody, harmony, rhythm, and form.

Chaz Underriner (born in Midland, TX) is a composer and guitarist based in Denton, Texas. Most of Chaz's work revolves around the notions of landscape and portraiture in the context of experimental music. Chaz has earned a master's degree in composition at California Institute of the Arts where he studied primarily with Michael Pisaro and Anne LeBaron. Chaz is currently studying for a PhD in composition at the University of North Texas, where he studies with Joe Klein and David Stout. Chaz has composed works for solo instruments, chamber ensembles, chamber and symphony orchestras, jazz combos, electronics, film, dance and choir.

Travis Weller is a composer, performer and instrument builder. He is one of the founders of Austin New Music Co-op, which has been presenting adventurous new music in central Texas for over a decade. His music has been commissioned and performed by ensembles in Europe and various cities around the US including New York, San Francisco, and Los Angeles. Travis collaborates frequently with a large group of colleagues, both regional and international, and has participated in residencies at Cornell University in Ithaca, STEIM in Amsterdam, and OdysseyWorks in San Francisco. An avid interpreter of new music, Travis has performed a variety of contemporary music from mid-20th century onward and has worked directly with many internationally known composers including John Butcher, Phill Niblock, Olivia Block, Michael Pisaro, Fred Lonberg-Holm, Ellen Fullman, Tristan Perich, Pauline Oliveros, and Arnold Dreyblatt.

About Austin New Music Co-op

New Music Co-op is a community of composers and performers from the Austin area dedicated to promoting awareness and understanding of new music. Since 2001 NMC has presented almost 50 concerts featuring close to 200 new works, many of them premieres. Notable New Music Co-op concerts have included two collaborations with Ellen Fullman and her Long String Instrument, the first complete US performance of Cornelius Cardew's seven-hour epic, The Great Learning, a commission of a program-length work by Berlin-based composer Arnold Dreyblatt, a realization of John Cage's Song Books, music for the extinct instruments of Luigi Russolo, Pauline Oliveros' Four Meditations for Orchestra (with the composer in attendance), and a three-day series of the works of the New York School. The Co-op was recently named "Outstanding Classical Ensemble" for 2011-2012 by the Austin Critics' Table. New Music Co-op members come from highly diverse backgrounds, from classical performance to electronic music to formal composition to rock bands. The group runs by consensus, and gains its strength from its members' varied experiences and interests. The New Music Co-op is a 501(c)(3) non-profit organization, and all donations to the group are tax-deductible.

This project is funded and supported in part by the City of Austin through the Economic Development Department/Cultural Arts Division believing an investment in the Arts is an investment in Austin's future. Visit Austin at NowPlayingAustin.com.