Smith & Alexander
The New Music Co-op Presents:
Willow Street Spring Concert Series

Carl Smith, tenor sax and James Alexander, viola
Saturday, April 19th 2003, 8:00pm
1010 Willow Street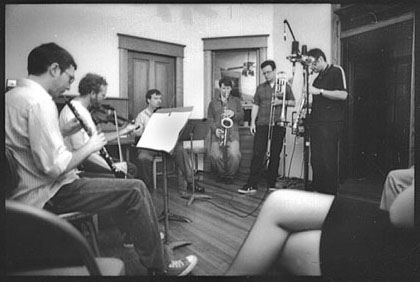 Frequent collaborators and long-standing fixtures in the Austin improvisation community, Smith and Alexander will perform duets composed by Smith. Also on the program, a premiere of the septet "Variations in A" by Smith and improvisations by members of the New Music Co-op; Jacob Green, Holland Hopson, Kirk Laktas, Nick Smith, and Travis Weller.
Carl Smith is an improviser and composer and, as an instrumentalist, performs exclusively on tenor saxophone. Carl has studied privately with Alex Coke, Frank Gratkowski, Jack Wright, Tina Marsh, Sabir Mateen, Assif Tsahar, Rob Brown and Lou Grassi and as played with Charles Gayle, Peter Kowald, Roy Campbell, Daniel Carter, Wadada Leo Smith and Gunda Gottschalk, among others. Carl is also organizer of the ECFA trio, which is the main vehicle for Carl's musical ideas (please see http://www.ecfamusic.com for more info.). The last year has seen Carl perform and record in a wind quintet with Faruq Z. Bey in Detroit, Michigan, and play at the 416-2002 Creative Music Festival in Toronto, Canada.
Violist James Alexander is a composer and performer working in Austin TX. He records and performs with cinders, e.c.f.a, the Imbroglio String Quartet, My Education, Shearwater, ultrasound, and a variety of small and large improvisational ensembles.