Happy Birthday Mr. Cage!
with Michelle Schumann, piano; and the Austin New Music Co-op
Michelle Schumann and Austin New Music Co-op present the 6th Annual John Cage Birthday Celebration.
Saturday, September 16, 2006 8:00 PM
Hyde Park United Methodist Church, 4001 Speedway
Tickets: $10/$7 students at the door
Pianist Michelle Schumann, Austin's renowned interpreter of new music, together with Austin New Music Co-op, will present a birthday concert to celebrate the eclectic inventions of avant-garde composer John Cage (1912-1992). Last year, the theme was contemplation and Zen. This year, the sixth in what has become-according to the Austin American Statesman-one of the top arts events in Austin, celebrates chaos and community.
Schumann has invited musicians from the Austin New Music Co-op, including violinist Travis Weller, vocalist Brandon Young to perform some of Cage's larger, more multi-faceted works. In addition to a layered performance of Cage's Variations II, Sculptures Musicales, Ophelia, Five Hanau Silence, Sonnekus, and 62 Mesostics for Merce Cunningham, Schumann and the community of musicians will offer a rare performance of the Concert for Piano and Orchestra featuring a 12 piece orchestra with conductor.
About the Music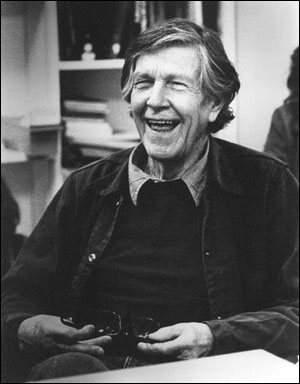 One of the most important composers of his era, John Cage's music explored many territories in the overlapping worlds of music and sound. Always questioning the definitions of these worlds, the works he left behind cover an impressive range from delicate melodies to cacophonous discord. While decidedly a part of the western music tradition, some of his scores seem to contain incomprehensible mysteries. Our program seeks to expose sides of Cage that seldom see the light of day. Striving to collect works from many of his creative periods, we will present work from the 50s, 60s, 70s, 80s, and 90s. On the menu will be sounds of the acoustic, electronic, and environmental varieties; both familiar and eccentric.
In the first half of the performance, a realization of 'Five Hanau Silence' (1991) will surround the audience with environmental sounds collected using Cage's instructions. NMC affiliates Gates ensemble will perform 'Sculptures Musicales' (1989) which invites the performer to create sound sculptures 'lasting and leaving from different points.' Gates will also perform 'Variations II' (1966) which requires the performers to construct their notation using Cage's score transparencies and idiosyncratic chance procedures. A performance of the tranquil 'Ophelia' (1946) and 'Five' (1988) will represent the lighter side of Cage. During the course of the first half you will hear excerpts from 'Sonnekus' (1985) and '62 Mesostics for Merce Cunningham' (1971) interwoven with the program in the spirit of Cage's superimposed performances such as 'Musicircus.'
The grand finale will feature Michelle Schumann, Austin's keeper of the avant-garde flame, at the piano along with the NMC orchestra for a rare performance of the 'Concert for Piano and Orchestra' (1958). This is among the most central works in all of Cage's output, an example of individuals acting as individuals but producing a work as a whole, a kind of functional anarchy (although each part is specified in detail).
Presented by the New Music Co-op and Michelle Schumann, the concert takes place one night only on Saturday, September 16, 2006 at 8:00 PM at Hyde Park United Methodist Church on 4001 Speedway. Tickets are available for $10 ($7 for students) at the door. Call 423-4888 for more information.